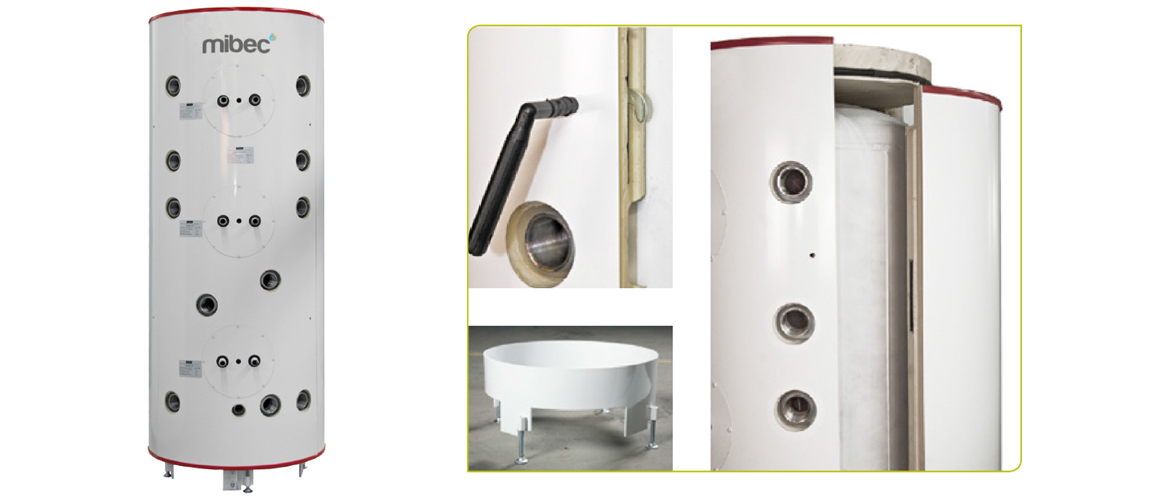 Product Overview
A thermal storage tank stores heat for water circulated heating and for producing hot potable water. In water-circulated heating systems, the heat generated by the heat exchanger is stored in the thermal storage tank's water. From there, the energy is used to heat the structure and water.
Mibec thermal storage tanks are specifically designed to work with heating systems utilising renewable energy sources such as biomass boilers or heat pumps. Mibec thermal storage tanks can be connected to underfloor or radiator heating networks and they are suitable for both new construction and renovation projects.
The Mibec Premium product range offers thermal storage solutions for applications ranging from small homes to large facilities, with capacities of 500, 1,000, 2,000, 3,000, 4,000 and 5,000 litres. We can also offer bespoke premium tanks up to 200,000 litres in size.
Mibec Premium thermal storage tanks are delivered with electric coils as needed and the necessary control units for producing heat and hot water. Equipping a storage tank with electric coils allows a wood-heated home to be heated with electricity during a vacation, for example.
Bespoke Products
Thermal storage tanks can be made with larger, Ø 300 mm doors for installing larger coils. The height of the storage tanks can also be lowered within certain limits. In addition, the size and location of connections can be altered. We also make thermal storage tanks for a 10 bar maximum operating pressure, upon special order.
Please feel free to email or call our support department on 01782 959170 where one of our trained advisers will be happy to help you source the right storage tank, or renewable energy solution to meet your needs.
Benefits of Mibec Premium
High quality construction – The thermal storage tanks are made of steel and painted with protective paint.
Superior thermal insulation properties – The insulaton is made of pressure-moulded polyurethane, which has excellent thermal insulation properties and minimal heat loss.
Fast, easy installation – The storage tank's insulation sections are fastened to one another using quick-release latches, so they can be attached and removed with ease. In order to allow for easier pipe installation, the connection points extend to the insulation layer.
Effortless to Handle – By removing the insulator sections of the storage tank for hauling, the diameter is reduced and it can fit through smaller spaces during transport. Due to its detachable insulation, even a 1,000-litre thermal storage tank can fit through a regular doorway without having to remove the door frame. The bottom of the storage tank has a fixed steel grid, which allows the storage tank to be effortlessly lifted and transported using a forklift or pallet truck.
Easy to locate and level – The storage tank comes with adjustable feet as standard, which can be adjusted between 0-60mm. Using the feet, the storage tank can easily be vertically aligned even on an uneven surface.
Sufficient supply of fresh water – The hot potable water obtained from thermal storage tanks is always fresh. The water is heated in a copper coil for use. The water passes through the coil quickly. The coil dispenses the water energy-efficiently and ensures that it is fresh. Different coil alternatives are available for our storage tanks upon special order.